U-don know what you're missing out on if you haven't tried this recipe. 😉 This bulgogi stiry fry udon is the perfect way to make something delicious with your left over produce in your refrigerator. Add in your preferred vegetables (we love carrots and onions) and your favorite cut of meat, leave it for a quick marinade and dinner is served.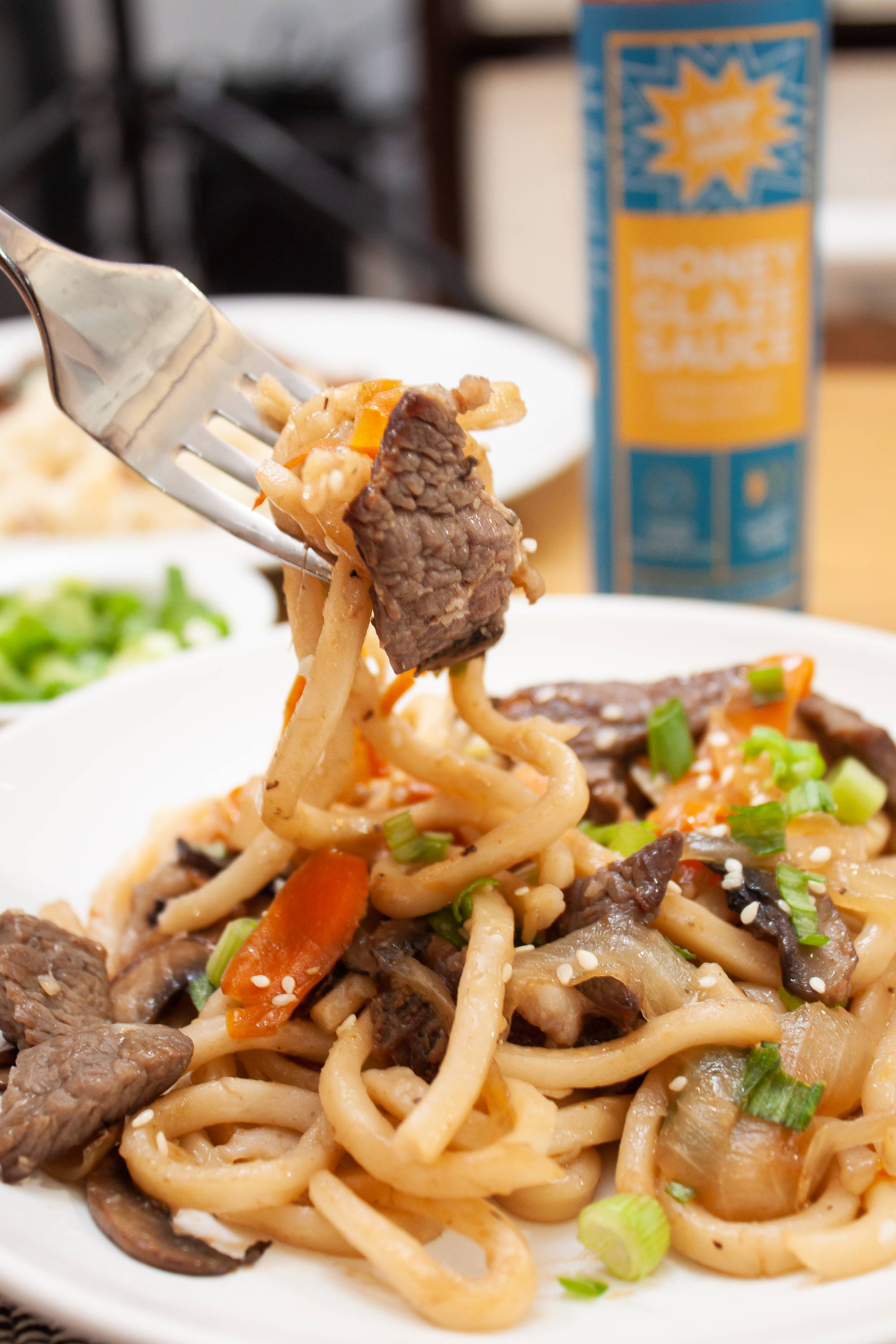 Serves: 2 // Prep Time: 15 minutes // Cook Time: 5 minutes
Ingredients 
1-2 packs udon noodles
2 tbs vegetable oil
300 g sliced beef
1/4 medium onion sliced
1 carrot julienned
30 g sliced shitake mushrooms
2 green onions chopped
1 tbs oyster sauce
sesame seeds
4 tbs soy sauce.
2 tbs mirin
1 tbs sesame oil
1 tbs Honey Glaze Sauce 
1 tbs brown sugar
6 cloves minced garlic
1/4 tsp black pepper
Directions
In a small bowl, combine soysauce, mirin, sesame oil, Honey Glaze Sauce, brown sugar, minced garlic, and black pepper. Set aside.
In separate medium bowl combine sliced beef, onion, carrot, mushrooms, green onions, and marinade. Mix throughly until everything is evenly coated. Let sit for at least 10 minutes.
Run noodles under water to carefully loosen them up. Drain and set aside.
Heat oil in medium pan, add bulgogi mixture and cook for 2-3 minutes.
When vegetables become soft and beef is browned, add noodles and oyster sauce. Stir fry for another 1-2 minutes.
Garnish with sesame seeds and green onion.
You really can't go wrong with a delicious stir fry, try this out the next time you're whipping something up in the kitchen.