As the spring days pass, it's beginning to look more and more like a summer we're all going to want to spend outside. This Memorial Day weekend, get out in the sun and take your grilling game to the next level with our Gochujang Chicken Kebabs. This recipe takes tender and juicy chicken thighs, pairs them with fresh veggies, and tops everything off with our sweet, tangy, and spicy KPOP Gochujang Sauce for a one-of-a-kind kebab. The sauce caramelizes into a spicy, sticky glaze, and paired with juicy barbecued pineapple and roasted bell peppers, each bite is an explosion of zesty, umami flavors with the perfect amount of heat. With only five essential ingredients, these handheld delights are easy to make and a guaranteed crowd-pleaser.
This unique recipe works perfectly to showcase all the best aspects of our original KPOP Sauce. Regular gochujang is too overpowering to season chicken without adding more ingredients to adjust the flavor, so this dish gives you the best of both worlds with the perfectly balanced and deliciously flavorful KPOP Sauce!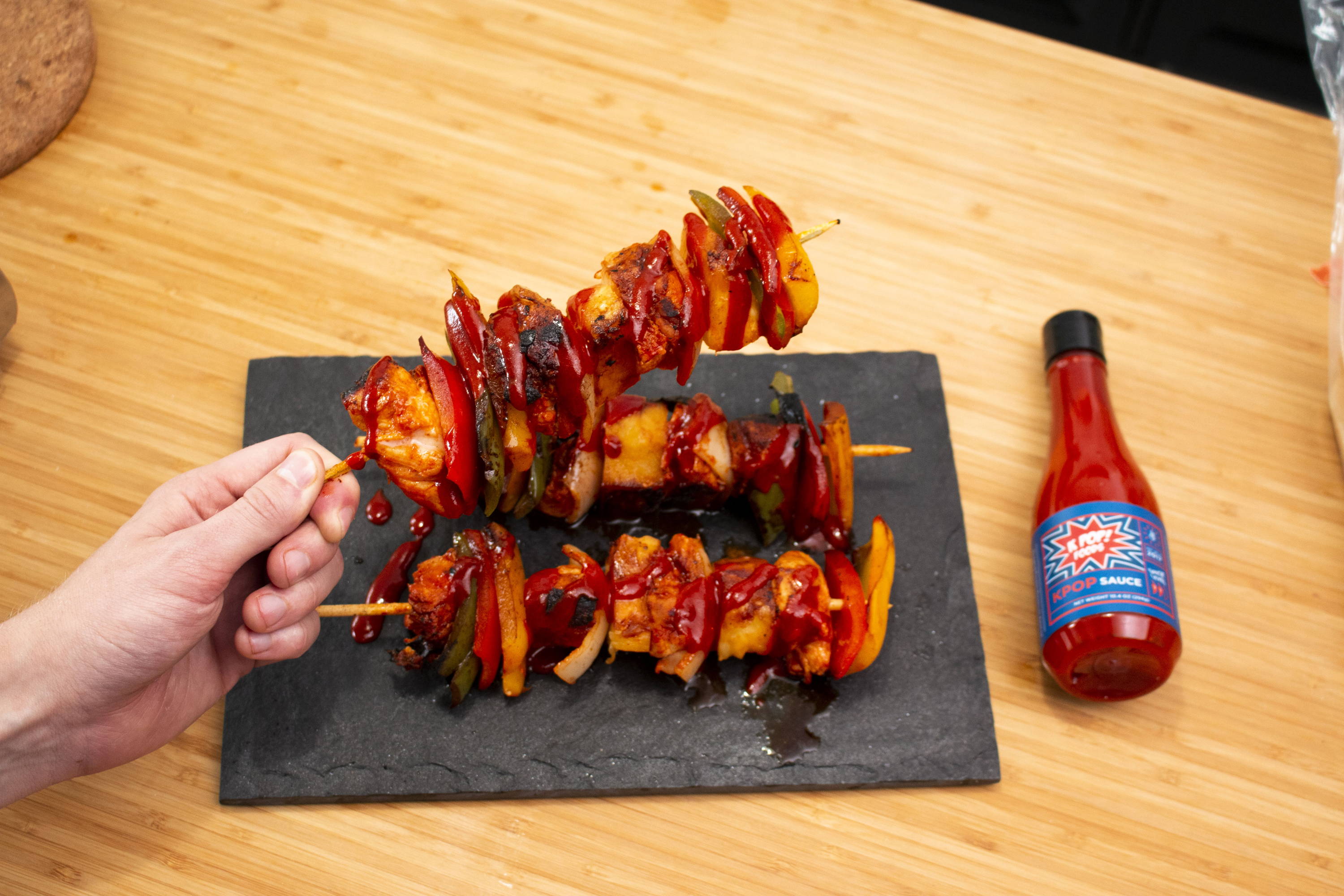 Prep time: 10 min / Cook time: 15 min / Servings: 3 skewers
Ingredients
1/2 pound of skinless, boneless chicken thighs, cut into 1.5 inch to 2 inch pieces

Pineapple chunks

1 bell pepper cubed

1 onion cubed

4 tbsp of KPOP Sauce

Salt and pepper to taste

 
Directions
Place chopped chicken into a medium sized mixing bowl

Season with salt and pepper, and 2 tbsp of KPOP Sauce

Mix chicken well until every piece is coated in sauce

Place the chicken, onions, bell peppers, and pineapple chunks on the skewers

Cook in pan on medium-high heat for 10-15 minutes on each side (or until cooked all the way through)

Serve with 2 tbsp of KPOP sauce on top and enjoy!