Move over McRib, there's a new rib sandwich in town!
Tender, juicy, sweet, and savory ribs in between soft buns. This is everything you want in a rib sandwich and more. We topped this off with caramelized onions, but feel free to include anything you want!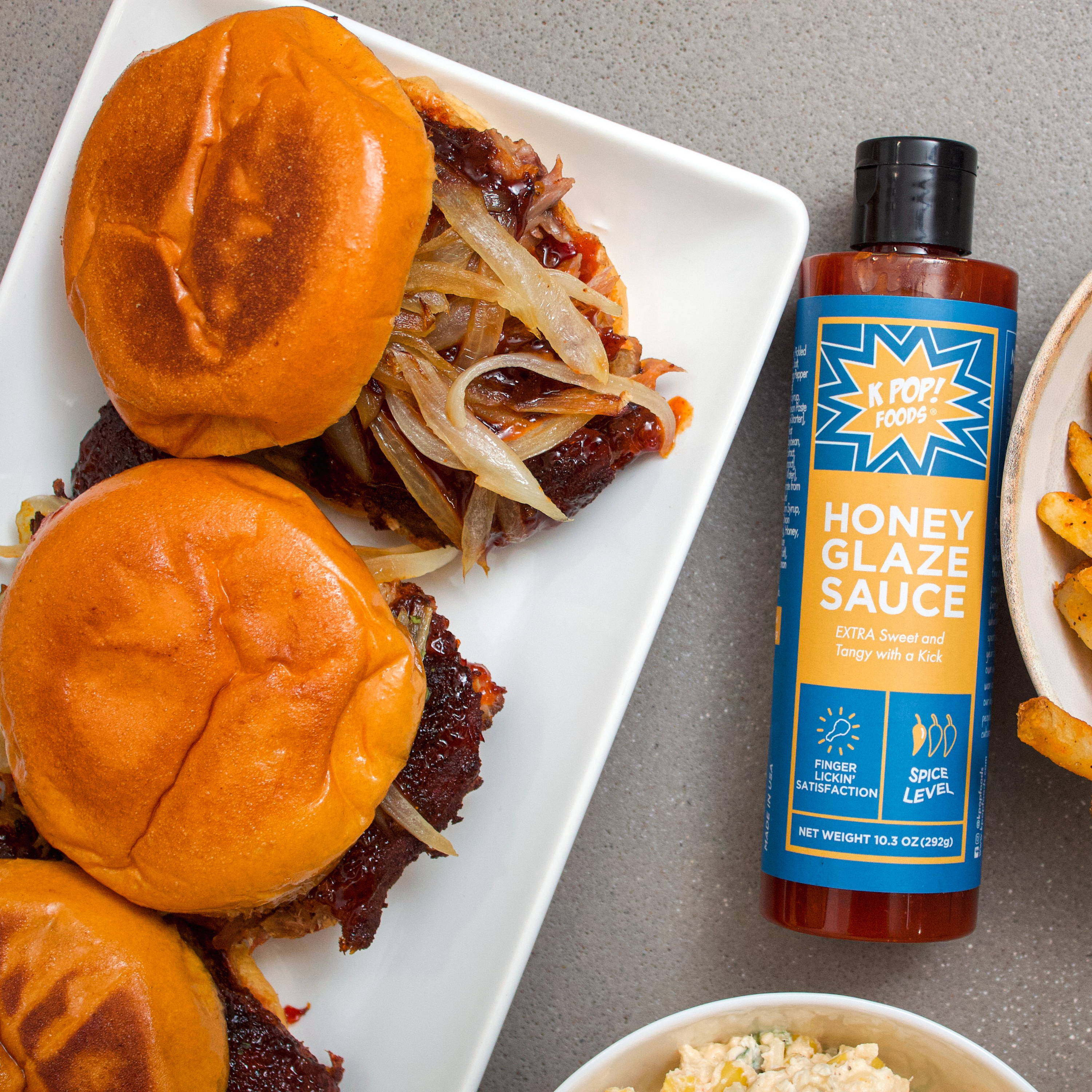 Makes: 3 sandwiches // Prep Time: 10 min. // Cook Time: 4 hr.
Ingredients 
1 rack baby back ribs, membrane removed (this is essential for de-boning)
1 cup Honey Glaze Sauce
3 brioche buns
4 tablespoons butter, melted
2 large onions, sliced and caramelized
2 tablespoons parsley
DRY RUB:
2 tablespoons paprika
1 tablespoon pepper
2 tablespoons brown sugar
2 teaspoons salt
1 teaspoon garlic powder
1 teaspoon onion powder
1 teaspoon cumin
1 teaspoon chili powder
Directions
Preheat the oven to 300°F (150°C).
Combine all seasonings in a bowl.
Coat the entire rack of rib in the dry rub.
Wrap entire rack in foil. It's important that the juices of the ribs stay inside the foil to keep the ribs moist during cooking. Use more sheets of foil if necessary.
Bake the ribs for 3-3½ hours.
Unwrap the ribs and wiggle the bones out slowly.
Preheat the broiler on your oven.
Caramelize onions while waiting for the oven.
Brush Honey Glaze Sauce on both sides of the ribs generously
Broil the ribs for about 5 minutes until the glaze is bubbling and starting to brown.
Butter both sides of the buns and toast on a pan.
Cut the glazed ribs into portions that fit in the bun.
Carefully transfer the glazed ribs to the bottom bun, then top with the caramelized onions, parsley, and the top half of bread.
Enjoy!