These Korean BBQ styled gochujang sliders will satisfy any amount of hunger. Try this recipe with KPOP Sauce and taste the party.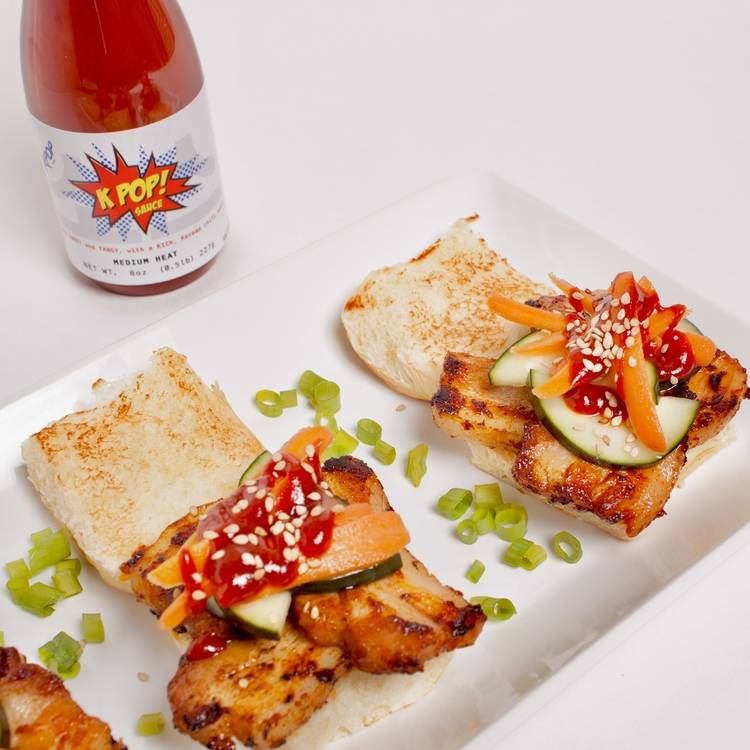 Serving size: 2 / Prep and marinating time: 2.5-4.5 hrs /
Cooking time: 10 min
Ingredients
12 oz pork belly

1/4 cup

KPOP Gochujang Sauce

2 tablespoons olive oil

King's Hawaiian Rolls

1/3 cup julienned carrots

1/3 cup julienned cucumbers

1 cup brown sugar

1 cup white vinegar

1.5 cups water

2 tablespoons of salt

1/3 cup of chopped green onions or scallions (optional)

2 tablespoons sesame seeds
Directions
Remove the pork belly from the packaging and rinse under cold water.

Place the pork belly into a plastic bag and add olive oil into the bag.

Massage olive oil into the pork belly and then add in KPOP Gochujang Sauce (add more for extra heat). Massage sauce into the pork belly and let it marinate in the fridge for at least 1 hour (4 hours for best results).

Mix the water, brown sugar, and white vinegar into a pot and bring to boil until sugar completely dissolves.

Pour the mixture into a glass jar and add julienned carrots and cucumbers. Cover jar and place in fridge for 2 hours.

Slice marinated pork belly into thin rectangular pieces (think of the thickness of bacon).

Place the sliced pork belly onto a pan and begin flipping over until crispy and brown on each side.

Toast Hawaiian rolls.

Add two slices of pork belly, carrots and cucumbers to each slider

Top off with more KPOP Gochujang Sauce, sesame seeds, and green onions.

Enjoy and make these magically disappear!