Summer is here! For your next summer cookout, give your classic burgers an exciting Korean twist and wow your family and friends with a dish that incorporates the best from the East and the West.
Picture this: After getting that perfect flip for your burger patty on the grill, you sip on a cool drink while you wait for the cheese to melt on your delicious patty. Then, you stack this juicy patty on a warm toasted bun that has a spread of our tangy KPOP Kimchi Mayo Sauce. You then top this burger with some fresh slice of crisp onions, tomatoes, and lettuce. Lastly, you apply an incredible finishing touch to the burger with a blend of ketchup and our all-time favorite KPOP Gochujang Sauce.
In this recipe, the classic American burger is perfectly elevated by our unique Korean spices. As you bite into the KPOP Burger Supreme, you will first taste the creaminess of our slightly citrus-y kimchi mayo marrying into the savory beef. Then, you will be pleasantly surprised by yet another sweet and spicy kick from the combination of ketchup and our flavor-packed KPOP Gochujang Sauce. In one bite, you will discover a unique twist on classic mayonnaise, and an explosion of umaminess so delicious it will make you want to run up for seconds!
Prep time: 5 min / Cook time: 15 min /
Servings: 1 burger
Ingredients
½ lb of ground beef

1 tomato sliced

2 lettuce leaves

2 tbsp of KPOP Kimchi Mayo Sauce

2 tbsp of ketchup

2 tbsp of KPOP Gochujang Sauce

2 Brioche buns

1 onion sliced

2 slices of cheddar cheese

2 pinches of salt and pepper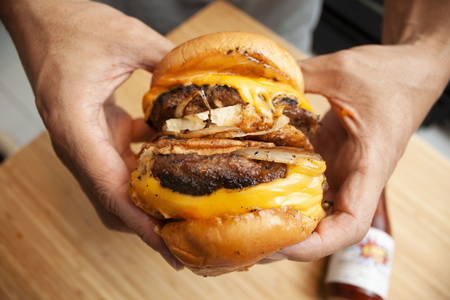 Directions
Make ground beef into 2 patties

Season each patty with salt and pepper

Place patties onto pan on medium high heat

After 5 minutes, flip patties and add cheese

After 4 minutes, turn off the stove

Assemble burger (from bottom to top: Bun, KPOP Kimchi Mayo, Patty, Onions, Patty, Lettuce, Tomato, KPOP Gochujang Sauce/Ketchup Mix, Bun)

Attempt to eat it!