Are you tired of eating the same ham and cheese sandwich? Let's spice things up and create some Shrimp Po Boys ! 🍤It's one of the many soul-enriching Southern foods loaded with varying textures and flavors that will excite you to recreate this recipe for your next meal ! 😋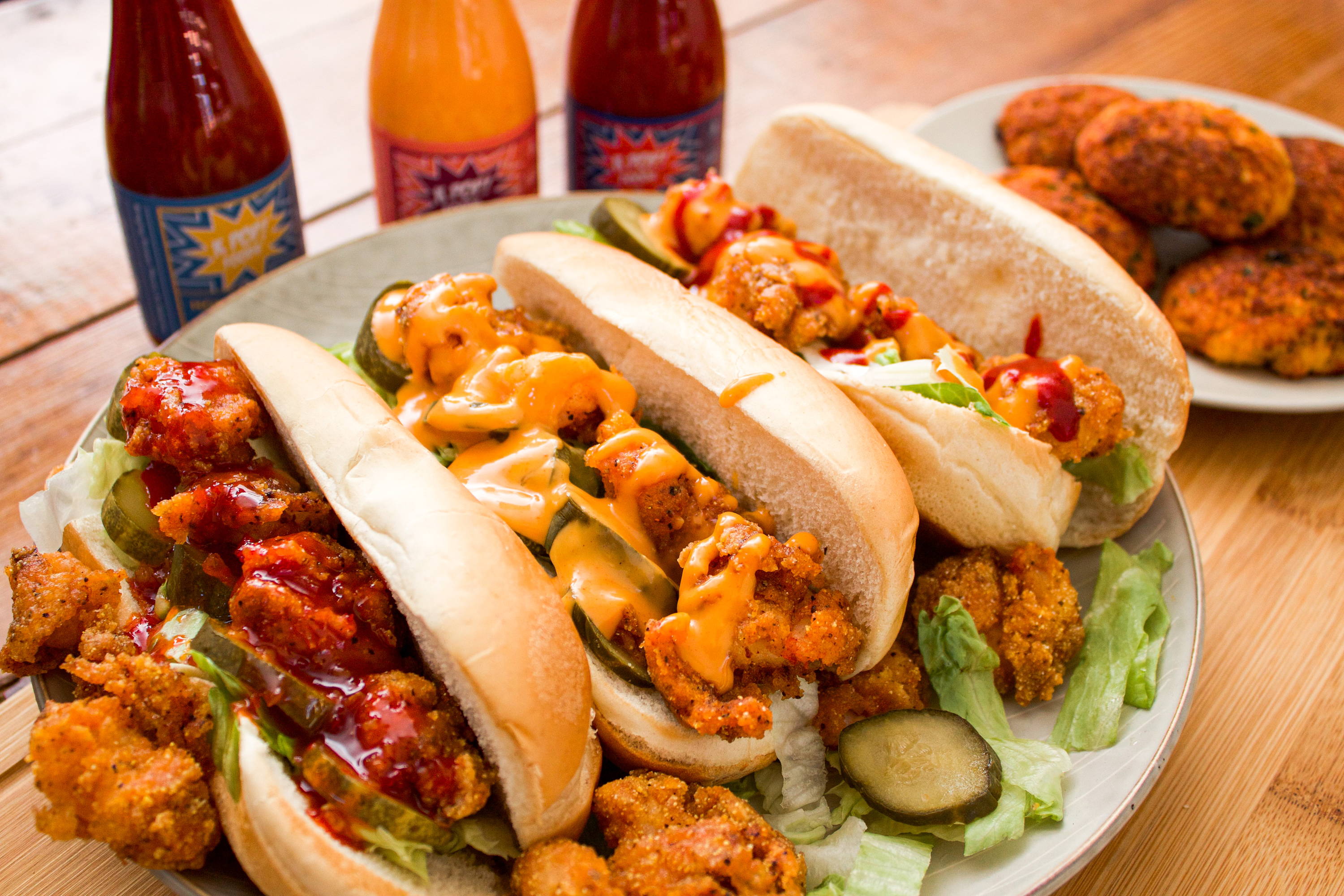 Serves: 3 / Prep Time: 15 min / Cook Time: 20 min
Ingredients 
4 French loaves split horizontally (8 in long)

1/2 tsp cayenne pepper

1 tsp garlic powder

3 tsp kosher salt

2 tsp paprika

1/2 tsp black pepper

45 raw medium shrimp (2 lbs) peeled, deveined, and tail off

1 1/2 cup all purpose flour

1 cup cornmeal

1 cup buttermilk

shredded iceberg lettuce

sliced tomatoes

canola/vegetable oil

dill pickles for garnish

3 tbsp XXX Sauce
Directions
Mix salt, paprika, garlic powder, cayenne pepper, and black pepper together. Divide the spice mixture in half.

Season the shrimp with the first half of the spice mixture.

Mix the flour, cornmeal, and the second half of the spice mixture together.

In a separate bowl, mix the buttermilk and XXX Sauce.

Dip the seasoned shrimp in the buttermilk, then coat the shrimp with the flour mixture, shaking off any excess. If you prefer a thicker coating, repeat this step.

Chill the shrimp in the refrigerator for 20 minutes.

Pour the oil into a deep, wide pot with a depth of about 2 in. Heat the oil to 350° F.

Working in batches, fry the shrimp until golden brown. This will take about 3-4 minutes per batch.

Transfer the shrimp onto the paper towels to drain the excess oil.

Build your sandwich on the French bread and layer it with Kimchi Mayo, sliced lettuce, tomato, and pickles. Finally, top off the sandwich with a pile of fried shrimp and extra Kimchi Mayo / XXX Sauce.
Say goodbye to your boring Ham and Cheese sandwich. Say hello to crunchy, crispy, and juicy goodness with Shrimp Po Boys! 🍤
---