Spicy chicken stew also known as Dadoritang or Dakbokkeumtang is a traditional Korean dish thats spicy, savory, and absolutetly delicioius. Amongst the juicy fall off the bone chicken, you get chunks of soft potatoe and carrots that's been stewing in the beautiful broth. Although it's bursting with so much flavor like it's been stewing in the kitchen for hours, this dish is incredibly easy to make in just 30 minutes! Just start your rice, add a couple ingredients to a pot and let it cook for 25 minutes. If you've never tried this, you need to add this to your dinner list.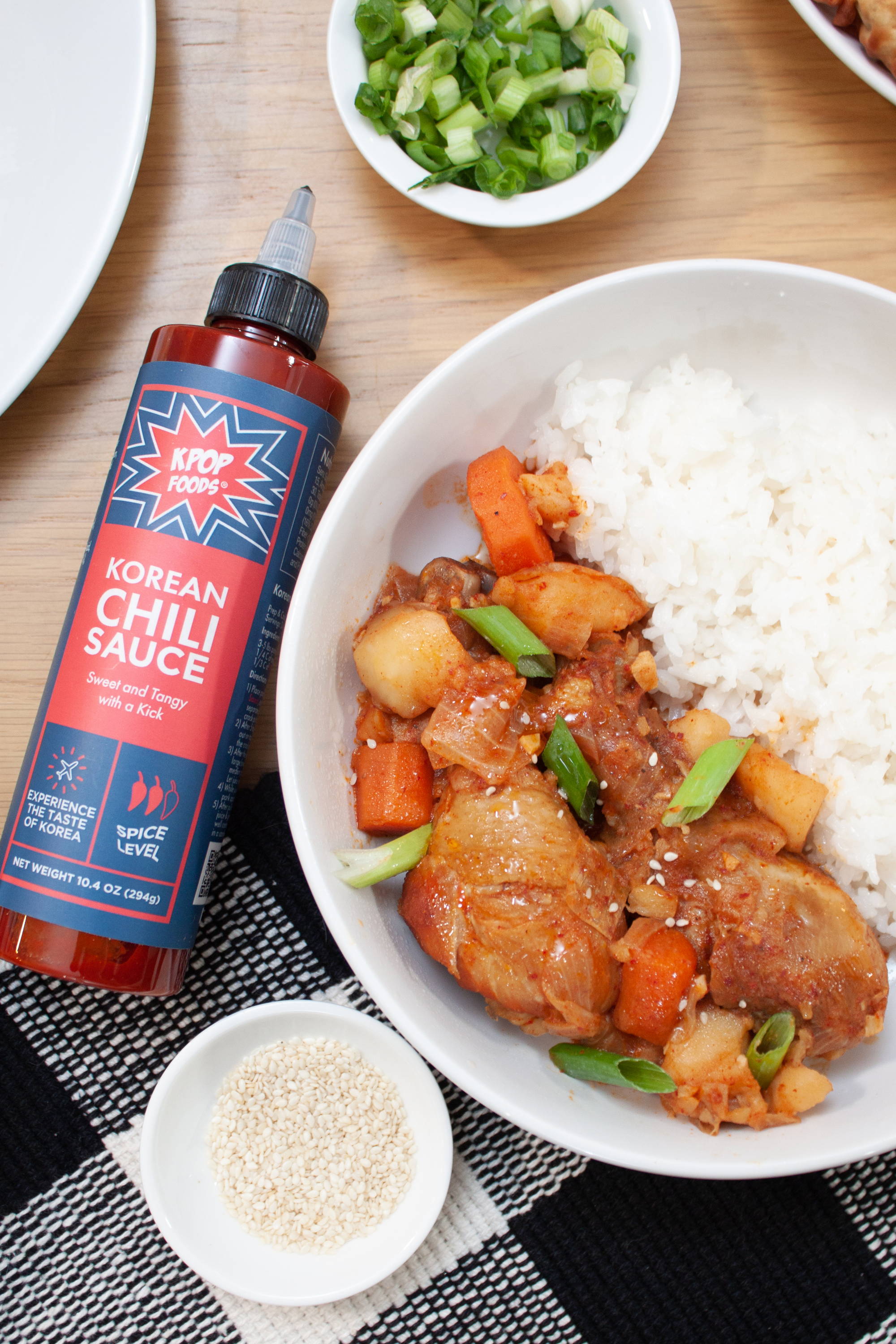 Serves: 2 // Prep Time: 5 minutes // Cook Time: 25 minutes
Ingredients
1 lb chicken (bone in, skin on)
1/2 medium onion cut in chunks
3 small potatoes cut in chunks
1 carrot cut into chunks
1 1/2 cups anchovy stock for more flavor or water
2 green onions chopped
2 tbs

Korean Chili Sauce

4 tbs soy sauce
4 cloves minced garlic
1 1/2 tbs honey or sugar
1/4 tsp black pepper
Sesame Seeds
Directions
In a small bowl combine, soy sauce,

Korean Chili Sauce

, garlic, honey, and pepper, mix thoroughly.
Chop potatoes, carrots, and green onions.
In large pot over medium heat, add chicken, onion, and thoroughly coat with sauce mixture. Cook for two minutes
Add dashi broth and mix. Cover and let for 15 minutes, stirring occasionally.
Add potatoes and carrots, reduce heat to low and let for another 15 minutes until vegetables are soft.
Garnish with green onion and sesame seeds.
Serve with rice and enjoy.
This is a must try dinner and easy to make in large batches whether your cooking for the family or you're trying to meal prep. It's perfect for every occasion. Try out this recipe the next time you're making dinner! 👨‍🍳