Imagine this, restaurant quality dish made at home in less than 20 minutes! This is not a joke, you can serve yourself up some sticky honey garlic beef in almost 10 minutes. This dish is so flavorful you'll find yourself wanting more and we don't blame you. It's also great for those who have a busy schedule or are into meal prepping. You can store this in the fridge for up to a couple days and it will still taste as good as when you made it fresh! Don't believe us? Try it out for yourself!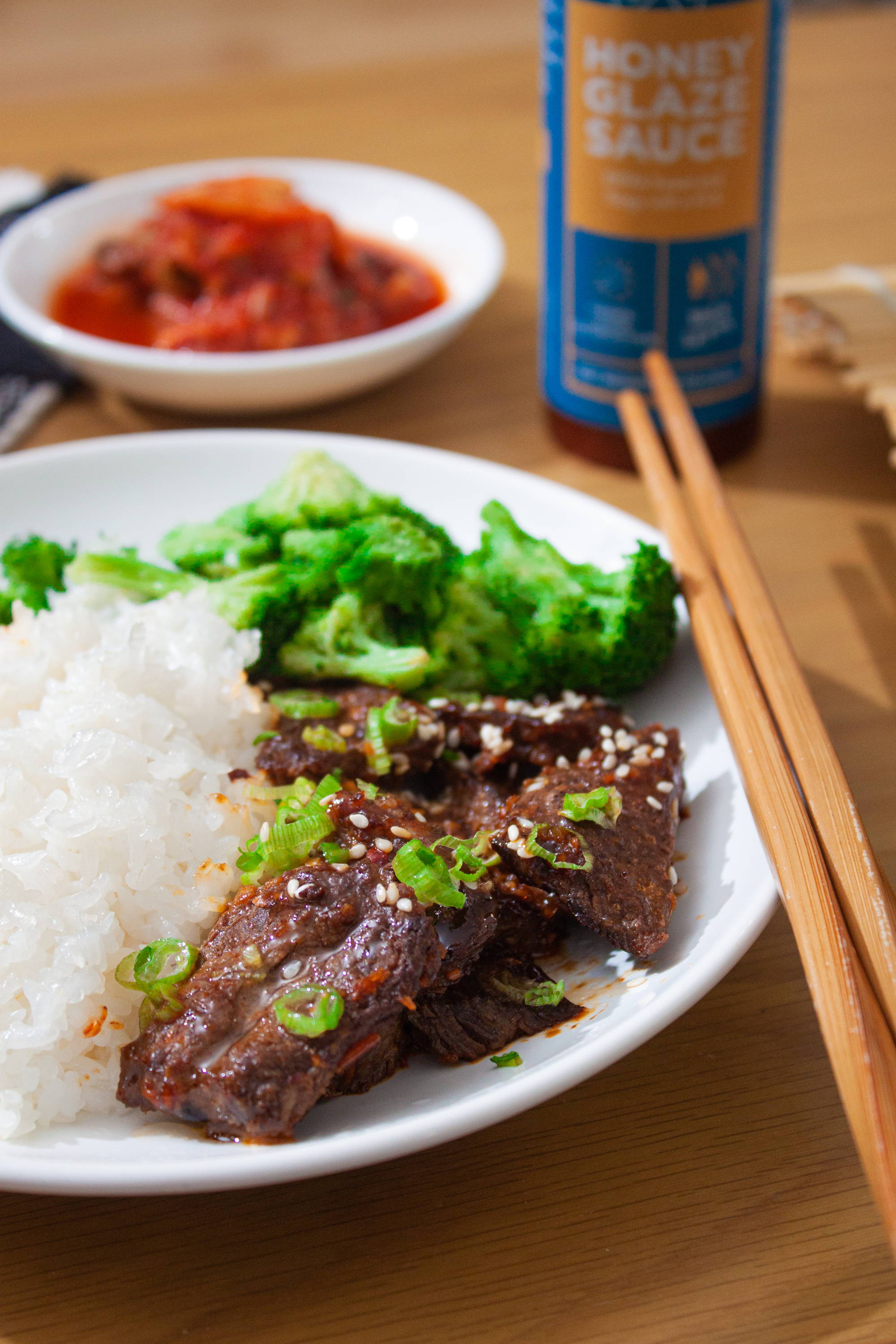 Serves:2 // Prep Time:10 minutes // Cook Time:10 minutes
Ingredients 
1/2 lb Flank Steak
1 tsp minced garlic
2 tbsp soy sauce
1/4 tsp red pepper flakes
2 tbsp Honey Glaze Sauce
1 tsp grated ginger
1 tsp hot Chinese mustard
1/2 tsp sesame oil
Sesame seeds
Sliced green onions


Directions
Slice the flank steak into 2 inch chunks across the grain.
In a medium bowl, combine minced garlic, soy sauce, red pepper flakes, Honey Glaze Sauce, grated ginger, and hot Chinese mustard. Set aside.
Add sesame oil to a medium cast iron pan over medium-high heat. Once the oil is hot, add the sliced flank steak in one layer.
Cook on one side for 1-2 minutes, letting it brown. Flip the meat and let brown for 2-3 minutes.
Reduce heat to low-medium and add sauce to the pan.
Stir and let sauce simmer on low heat for about 5 minutes, until it reduces into a sticky glaze.
Plate beef and garnish with chopped green onions and sesame seeds. Now it's ready to serve!
Sticky Honey Garlic Beef should definitely be a staple in everyone's lives. It's delicious, quick, and easy to make. That's what we call the magic trio! 🧑‍🍳