Bite sized and packed with flavor, stuffed mushrooms make the best appetizers or even as a snack. It taste great on its own but also pairs well with a variety of sauces. Though, we highly recommend eating it with our Kimchi Mayo!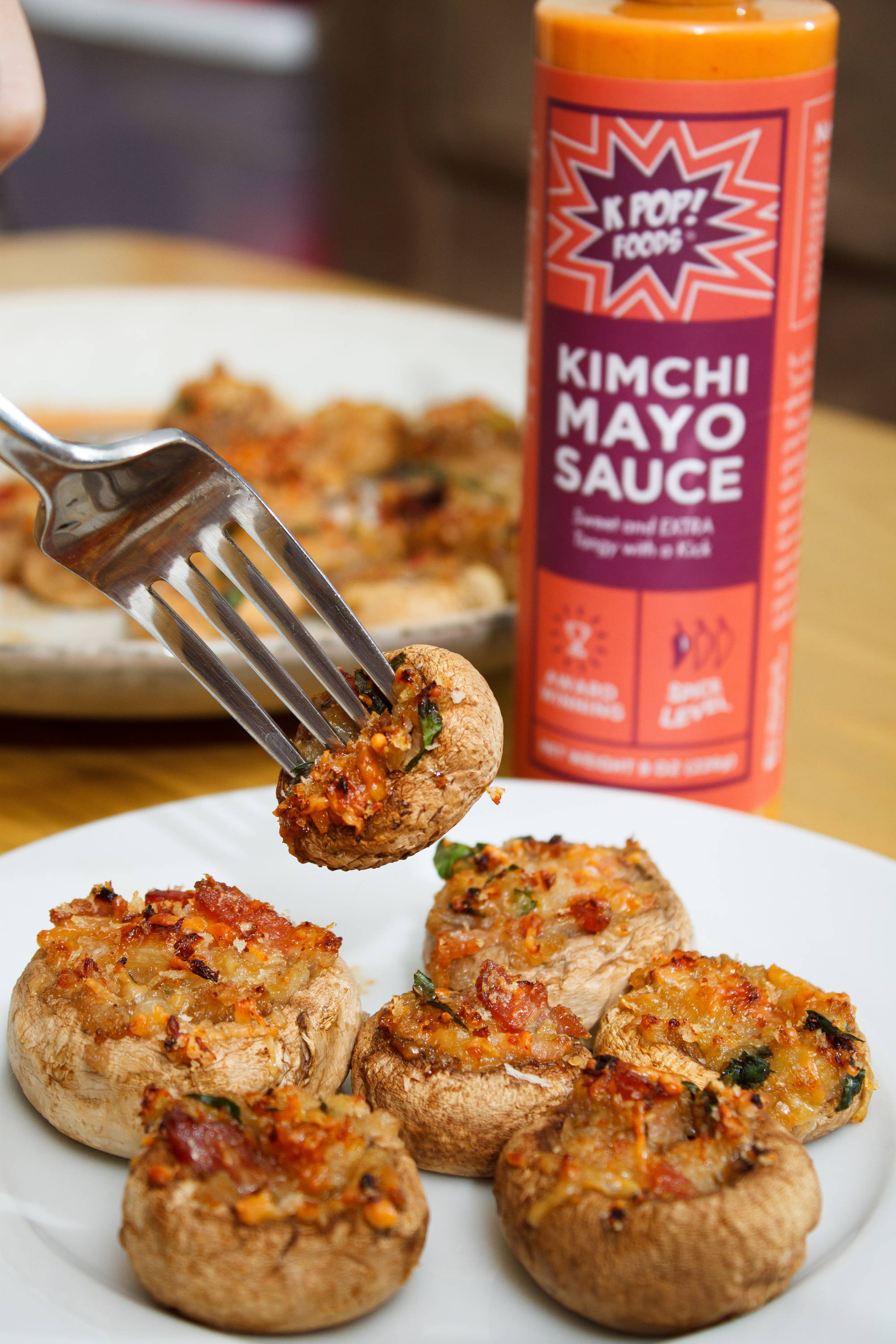 Serves: 6 // Prep Time: 15 // Cook Time: 20-25 minutes
Ingredients 
16oz white mushrooms
1 tablespoon of olive oil
1/8 of an onion, chopped
2 cloves of garlic, minced
1/4 cup of panko crumbs
1/4 cup of parmesan cheese
1 1/2 teaspoon of chopped Italian parsley
  4 slices of bacon (or to your hearts desire)
9. Kimchi Mayo
Directions
Preheat the oven at 400 degrees F. Set aside a baking sheet, lined with parchment paper.
Remove the stems from the mushrooms. Chop the stems finely and save save the mushroom caps.
Heat 1 tablespoon of olive oil in a medium sized pan over medium heat. Add the chopped mushroom stems and onions, cooking for about 5 minutes until or until tender.
Add the garlic and cook for 1 more minute. Remove from heat.
In a fresh pan, fry 4 slices of bacon until your preferred doneness. Set aside to cool.
Chop bacon into fine pieces.
In a medium bowl stir mushroom and garlic mixture with the panko, parmesan cheese, and bacon.
Spoon mixture into mushroom caps and place on baking sheet.
Bake for 20-25 minutes or when mushrooms are tender.
Remove and drizzle Kimchi Mayo on top.
Serve warm and enjoy!
Simple to make and delicious. You can change up the filling to your liking which is what makes this recipe so great! Take out the bacon and it can be a veggie lovers favorite. Whatever you decide to add, you can count on these stuffed mushrooms on being juicy and savory .