Korean food without gochujang (Korean hot pepper paste) is like soup without salt - disastrous! Used in countless of Korean dishes, gochujang is made with Korean chili powder, rice powder, and fermented soybeans. The fermentation makes gochujang a healthy probiotic that assists with digestion and boosts immunity. The combination of sweet, tangy, and spicy flavors in this Korean chili paste lends it to pair well with everything from veggies to carbs and proteins.
Gochujang's versatility and broad range of application may have you wondering where do I even begin? Lucky for you, we've picked out 7 of the most popular Korean dishes using gochujang that you must try.
7 Korean Dishes Using Gochujang
1. Soondubu Jjigae (Korean Soft Tofu Stew)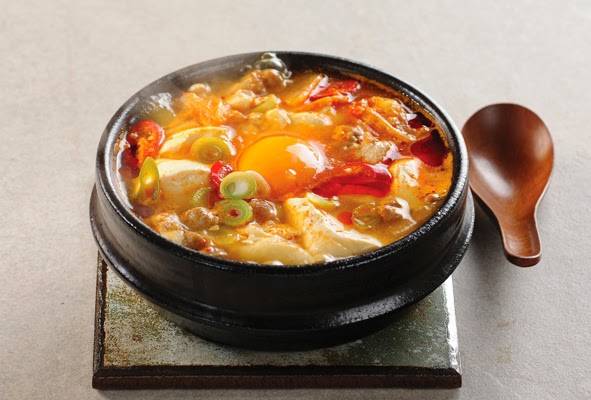 Soondubu jjigae is a spicy Korean soft tofu stew often served in a stone pot with veggies and proteins. The traditional stock for soondubu jjigae is traditionally made with gochujang and anchovy stock for the base, and served with extra soft tofu, thinly sliced meat, kimchi, and scallions. The smooth combination of gochujang and extra soft tofu produces an umami tune so warm and comforting, you'll want to play it over and over again.
Bibimbap is a popular Korean recipe that literally translates to "mixed rice". It combines rice, meat, vegetables, and eggs into one bowl, and gochujang is mixed into the food to pair the ingredients together for an explosion of flavor. Bibimbap is highly customizable; you can choose your favorite vegetables and protein, and even sprinkle some organic seaweed at the end to add some crunchiness to your meal. The possibilities for this dish are endless!
Check out our Salmon Bibimbap recipe so you can create this at home!
3. Tteokbokki (Stir-fried rice cakes)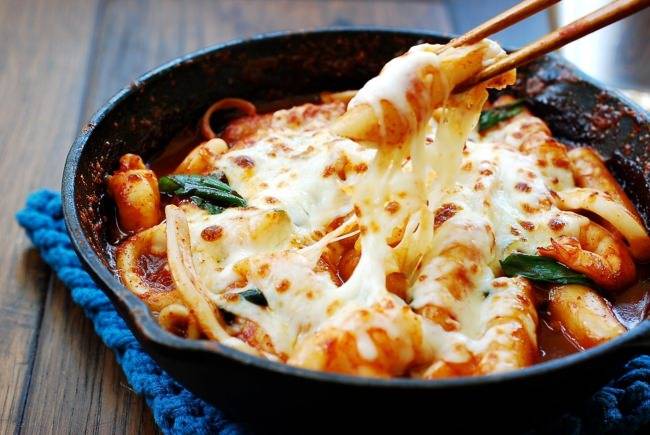 Tteokbokki is an iconic street food sold in many snack bars and restaurants. This snack is made up of rice cakes that are smothered in a viscous, yet spicy gochujang sauce. What is a rice cake, you may ask? It is made of ground rice that is pressed into various shapes, giving it a dense and chewy texture that is not commonly found in Western cuisine.
The main ingredients for the traditional sauce are gochujang, dashi stock, and sesame oil. Additional toppings such as boiled eggs, fish cake, and instant ramen noodles can also be added to make tteokbokki a meal.
4. Gochujang Marinated Shrimp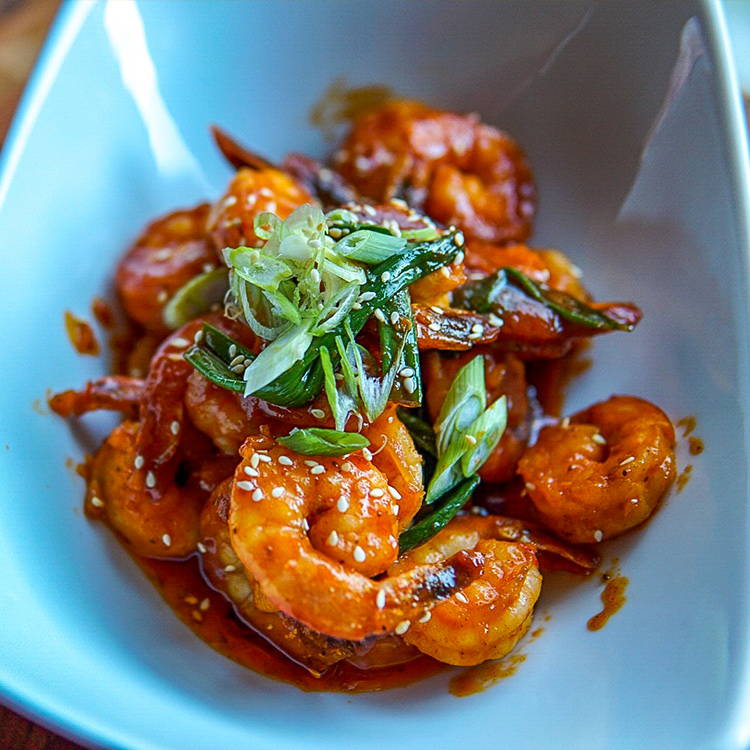 Korean spicy grilled shrimp skewers are marinated with gochujang, then cooked with garlic and lemon to add to the fragrance of the dish. As you bite into the tender shrimp, you will first taste the sweet and savory flavor of gochujang marrying into the juicy seafood, then feel a mild kick from the spice that makes gochujang so unique. Let's just say this meal hits three basic tastes (sweet, salty, umami) in one bite and you won't be able to stop yourself from reaching for another shrimp!
We've taken this delicious dish and added a KPOP twist to it. Check out our Spicy Honey Butter Shrimp recipe that packs plenty of rich and spicy seafood flavors that will leave your taste buds tingling.
5. Dak-gang-jeong (Korean Style Popcorn Chicken)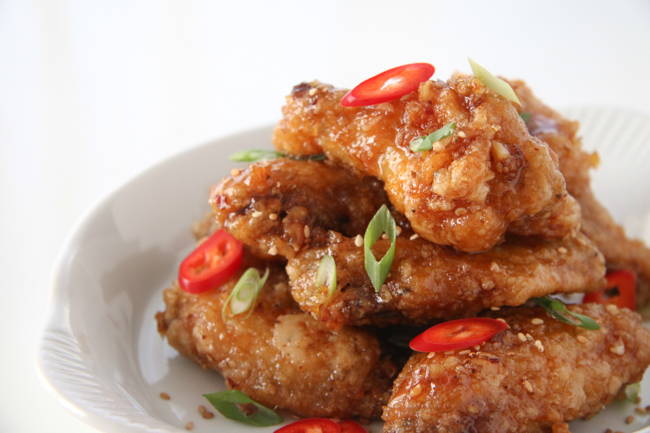 The old meets new in each alleyway of Korea. Teeming with innovation in culture and flavor, Dakgangjeong is an elevated fried-chicken that combines Korean and Western cooking into a bite-sized snack. Each fried piece of chicken is a small miracle; crispy, crunchy golden nuggets of delight glazed with a perfectly balanced sauce of sweetness and spice. The primary ingredients of the glaze include honey, soy, and garlic, but gochujang is often added when Koreans want their food hot and spicy (which is all the time)!
A popular order of Dakgangjeong comes in Half & Half, where Koreans get half an order that is non-spicy, and another half that gives them the exciting kick they look for in every meal.
6. Galbi (Beef short ribs)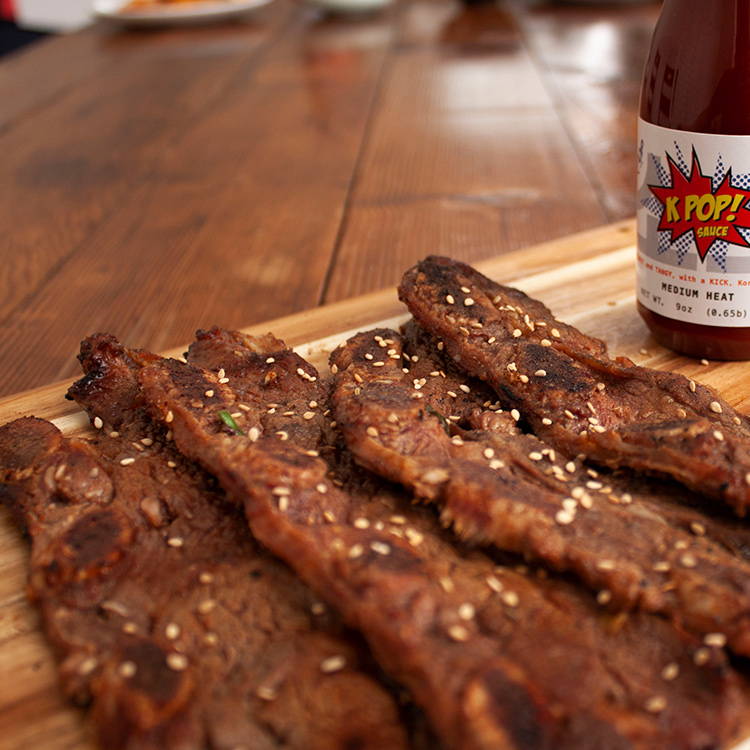 Sizzling on top of the smoldering hot coals of every grill is the epitomic cut of Korean BBQ: Galbi. Every single moment with this delectable cut of meat is filled with a perfect balance of soy, garlic, and umami that is complemented by essence of the smoke embedded into the meat. The first step in making Galbi is gathering ingredients such as soy sauce, brown sugar, garlic, and sesame. Simply place the short ribs in a large plastic zipper bag with all of the ingredients and let the bag sit in a refrigerator overnight (or for 4 hours). Throw the ribs on the grill for a few minutes and - BAM! - you have the taste of Korean BBQ right in your own home!
Check out our classic Galbi recipe created by Theo's Grandma!
7. Dakdoritang (Spicy Korean Chicken & Potato Stew)
Our last gochujang dish is Dakdoritang, a rich and fiery chicken stew that serves as the ultimate comfort food you've been missing. With spicy peppers and gochujang as the base of the broth, this stew is paired with root vegetables such as carrots, onions, and potatoes that add a natural sweetness to the delicious broth. Since the chicken is braised in the stew, the meat falls off the bone as you eat it and the flavors of the broth intensify with every minute. This delicious and heart warming meal is perfect to eat on a cold day!
Pro tip: If you want to enhance this recipe, sprinkle some roasted seaweed for subtle flavors of umami.
Want to learn more about the health benefits of gochujang?