By Ligia Lugo of The Daring Kitchen.
When you're in the mood for a sandwich, do you crave crunchy, cheesy, sweet, and savory all at once? It's hard to choose just one dominant flavor and texture. And luckily, you don't have to.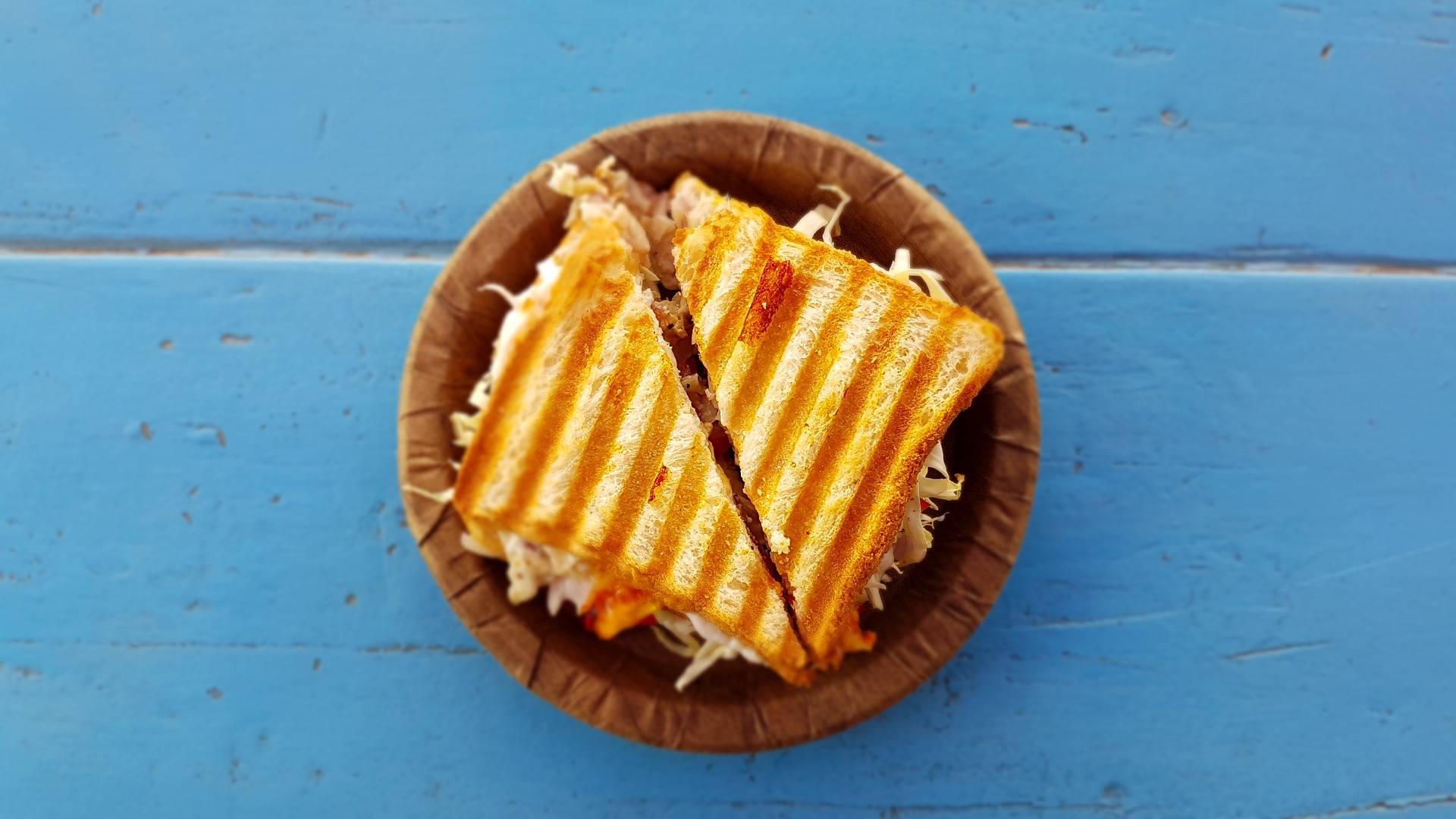 Korean street toast is the answer to your sandwich dilemma. It's a magical mashup of crunchy vegetables, melty cheese, tender scrambled egg, and sweet sauce, all smushed between two buttery slices of toasted white bread.
Hungry? Me too.
Korean Street Toast is a true Korean delicacy that might not get the appreciation it deserves in other parts of the world. Not only does it satisfy nearly every craving a sandwich eater could have, but it's also incredibly quick and easy to make at home.
Ingredients for Korean Street Toast
There are dozens of recipes for Korean street toast. In fact, it seems like each household, not to mention street vendor, has its own secret ingredient combinations. But, in general, each rendition of this Korean snack has a few must-have ingredients.
Korean milk bread is fluffy, white, and necessary to give your toast it's sandwich-like structure. Plus, it crisps up beautifully into a golden blonde with a smear of butter in a hot wok. And, it somehow remains crispy on the outside while absorbing all of the saucy fillings you'll stuff in between the slices.

Eggs are the glue for your toast filling. For most single-serving street toast recipes, you'll need at least two well-beaten eggs to hold together all of the crunchy vegetables and flavorings together.

Cabbage and other crunchy veggies, including carrots, scallions, and onions, add texture, color, and flavor to the omelet filling. Don't worry if that filling spills over the sides of your toast, that's par for the course with this messy but oh-so-delicious dish.

Flavor-packed condiments, like

KPOP Gochujang

, are where it gets really fun to make street toast at home. Use your favorite hot sauce, sweet ketchup, or even savory

Kimchi Mayo

to amp up the flavor of your toast. Truly, the flavor possibilities are endless.

Melted cheese transforms your average street toast from an egg sandwich to a grilled cheese masterpiece. Usually, you'll find pre-sliced American cheese between layers of egg and milk bread. Of course, there's no reason not to try other cheeses. Sharp cheddar, gooey mozzarella, and creamy Munster would all make interesting additions.
Then, there are dozens of add-ins that you'll find throughout Korea and in Korean households around the world. Favorites toast additions include:
Sliced meats, like crispy bacon and salty ham

Briny pickled vegetables, including onions, cucumbers, and radishes

Kimchi
How to Make Korean Street Toast
As its casual name suggests, street toast takes little culinary precision to perfect.
And on the equipment side, it's also fairly straightforward. You'll just need a high-quality wok, like one of these. This is key for stir-frying the vegetables quickly until they're just crisp-tender, and for browning the toast and melting that cheese.
Here's how to make the most flavor-packed Korean street toast at home:
Mix together your vegetable blend in a large bowl. Season it with salt and pepper, then add the eggs and give everything a good stir. You want the eggs to be fully beaten and the veggies to be well incorporated.

Heat a wok over medium-high heat and melt about 1 tablespoon of butter. Swirl it around to coat the skillet fully.

Dump in your egg and vegetable mixture into the hot wok and use a spatula to pat everything into a square patty roughly the size of your bread.

Let this patty brown up on one side, lowering the heat as necessary to avoid burning. When it's good and crisp on the bottom, carefully flip the patty and brown the other side. Add a slice of cheese now too.

Meanwhile, melt a bit more butter on the other side of your skillet to toast the bread. Flip the bread as necessary until it's golden brown on both sides. Remove the toast to a serving plate (or a piece of aluminum foil if you're going traditional Korean street food-style).

When the veggie and egg patty is crisp and brown on both sides and the cheese is melted, transfer it to a piece toast. Sprinkle the patty with a bit of sugar and your favorite sauces, add the second piece of toast, and dig in.
When to Serve Korean Street Toast
In Korea, street toast is often enjoyed for breakfast. It makes a great to-go meal that takes just minutes to whip up. Of course, it's also quite filling, thanks to the eggs, vegetables, and thick bread slices. So it also makes a hearty lunch or even dinner.
Now get in that kitchen and start experimenting–we can't wait to see the street toast masterpiece that you create!