Have you ever wanted to mix everything that you loved into one delicious and healthy dish? Us too. That's why we love this recipe from chef, photographer, and blogger, Carly Diaz. She's masterfully created a savory dish that hits all the right places. Bibimbap is a traditional Korean dish that literally translates to "mixed bowl." With rice serving as a canvas for a colorful mix of vegetables and beef, this bowl is the OG of all rice bowls before they ended up in every brunch place in America. Check out her other recipes here.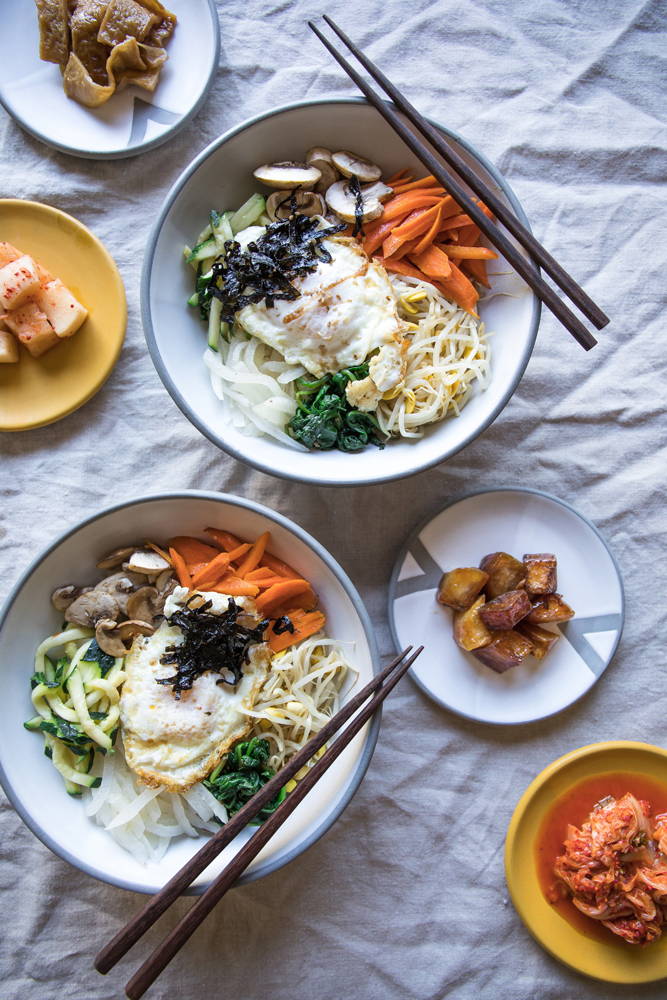 Ingredients 
1 English cucumber

2 carrots

1 bunch of fresh spinach

1 small daikon radish

1 pint shiitake mushrooms

1 pound mung bean sprouts

1 cup KPOP Sea Snacks

4 eggs, fried to taste

3 tbsp KPOP Sauce

4 cups cooked white rice
Directions
1. Prep the rice. There's no shame in using instant or microwavable rice either.
2. Julienne (a fancy way to say cut them into long, skinny pieces) the cucumber, carrots and daikon. Thinly slice the shiitake mushrooms.
3. Roughly chop the spinach and blanch them for 30 seconds (Steaming them for 2-3 minutes also achieves the same effect). Mix all of the vegetables in a bowl.
4. Toss the vegetables with sesame oil, salt, pepper, and KPOP Sauce.
5. Fry the eggs. We absolutely love a good runny yolk, so over easy is recommended.
6. Mix all of the ingredients into rice, folding them in while adding KPOP Sauce to taste. Save one egg to place on top. Sprinkle KPOP Sea Snacks on top to serve!
---