You can't spell Korean BBQ without galbi, aka beef short rib, and if it's not grandma's recipe, you just ain't doing it right. Perfect BBQ recipe to enjoy with family and friends!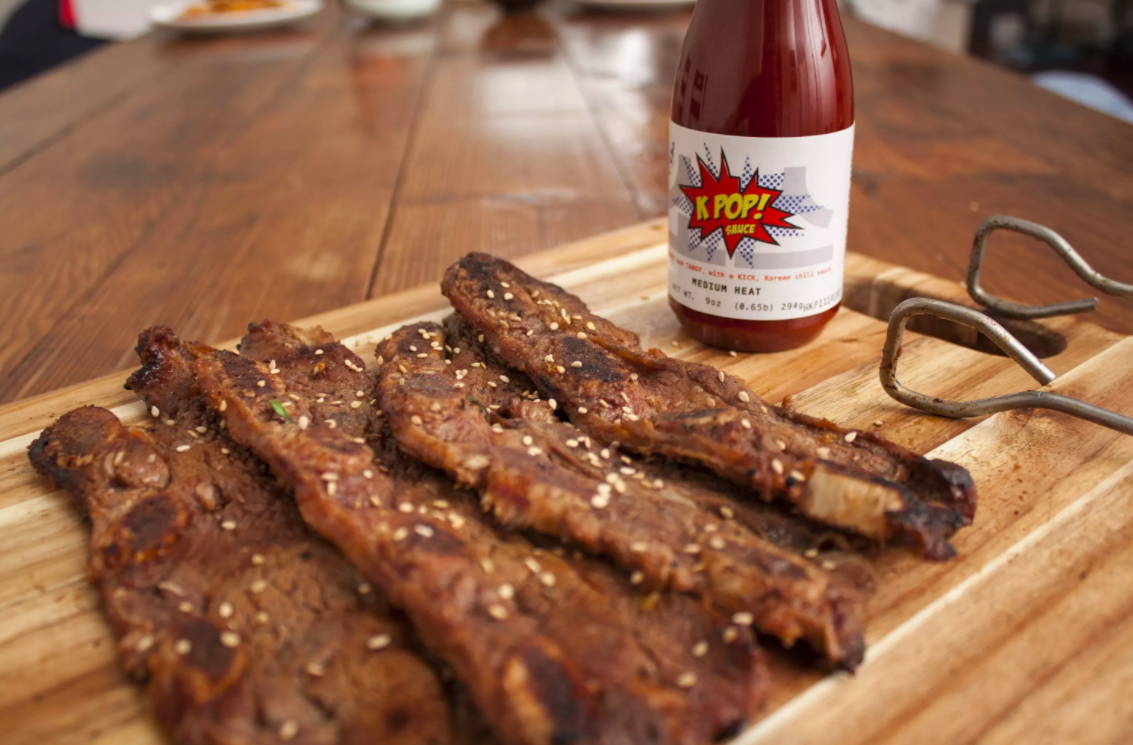 Serving size: 4 / Prep time: 15 min / Cooking time: 15 min
Ingredients
2 lbs bone in beef chuck short ribs (cut to 1/3 to 1/2 inch thick)
3/4 Cup of Soy Sauce
3/4 Cup of Brown Sugar
3/4 Cup of Water
2 Garlic Cloves, Minced
1 Tablespoon of Sesame Oil
2 Green Onions, Chopped
1/4 Cup of KPOP Sauce
Directions
In a large bowl, mix together the soy sauce, brown sugar, water, garlic, sesame oil, green onion, and KPOP Sauce. Keep stirring until the sugar fully dissolves.
Place the ribs in a large plastic zipper bag. Pour the marinade over the ribs and then squeeze out the air in the plastic zipper bag. Set the bag in the refrigerator over night or for up to 4 hours.
When ready to cook, preheat the grill to medium-high heat. Remove the ribs from the plastic bag and place onto the grill. Depending on thickness of the ribs, grill each side for 4-6 minutes, or until desired preference. Feel free to garnish with chopped green onions and sesame seeds and enjoy!
Serving size: 2 / Prep and marinating time: 2.5-4.5 hrs / Cooking time: 10 min
Ingredients
12 oz pork belly

1/4 cup

KPOP Sauce

2 tablespoons olive oil

King's Hawaiian Rolls

1/3 cup julienned carrots

1/3 cup julienned cucumbers

1 cup brown sugar

1 cup white vinegar

1.5 cups water

2 tablespoons of salt

1/3 cup of chopped green onions or scallions (optional)

2 tablespoons sesame seeds
Directions
Remove the pork belly from the packaging and rinse under cold water

Place the pork belly into a plastic bag and add olive oil into the bag

Massage olive oil into the pork belly and then add in KPOP Sauce (add more for extra heat). Massage sauce into the pork belly and let it marinate in the fridge for at least 1 hour (4 hours for best resultsl).

Mix the water, brown sugar, and white vinegar into a pot and bring to boil until sugar completely dissolves.

Pour the mixture into a glass jar and add julienned carrots and cucumbers. Cover jar and place in fridge for 2 hours.

Slice marinated pork belly into thin rectangular pieces (think of the thickness of bacon).

Place the sliced pork belly onto a pan and begin flipping over until crispy and brown on each side.

Toast Hawaiian rolls.

Add two slices of pork belly, carrots and cucumbers to each slider

Top off with more KPOP Sauce, sesame seeds, and green onions.

Enjoy and make these magically disappear!